The Yamaha SR400 Cafe Racer: is it a machine made by aliens?
Is it a Concept bike? Cafe racer? Is it a Racer? Or is it a Space ship in disguise?
Whatever it may be, Markus Pintzinger from Omega Racer claims his Sunmaster 14 SR 400 Cafe Racer isn't one but in a world where people are quick to label unusual things, there's no escape for him and he has stopped arguing about the classification of his bike is.
Built in Thailand, Markus Pintzinger started out with the SR400 as his base bike platform to start this project. Sorry, conspiracy theorists but this bike was made by a man with a dream and enough determination to see his project see the light of day.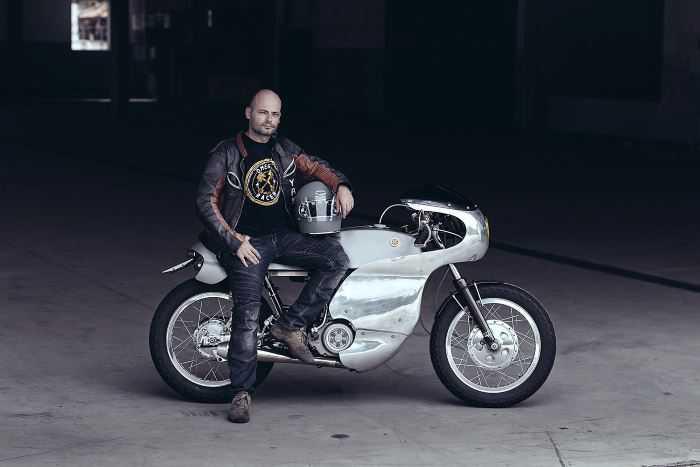 The most obvious feature on this Yamaha SR400 Cafe Racer is the aluminum fairing that encompasses the majority of the front area on this bike.
This is a totally hand-built feature which makes it more impressive.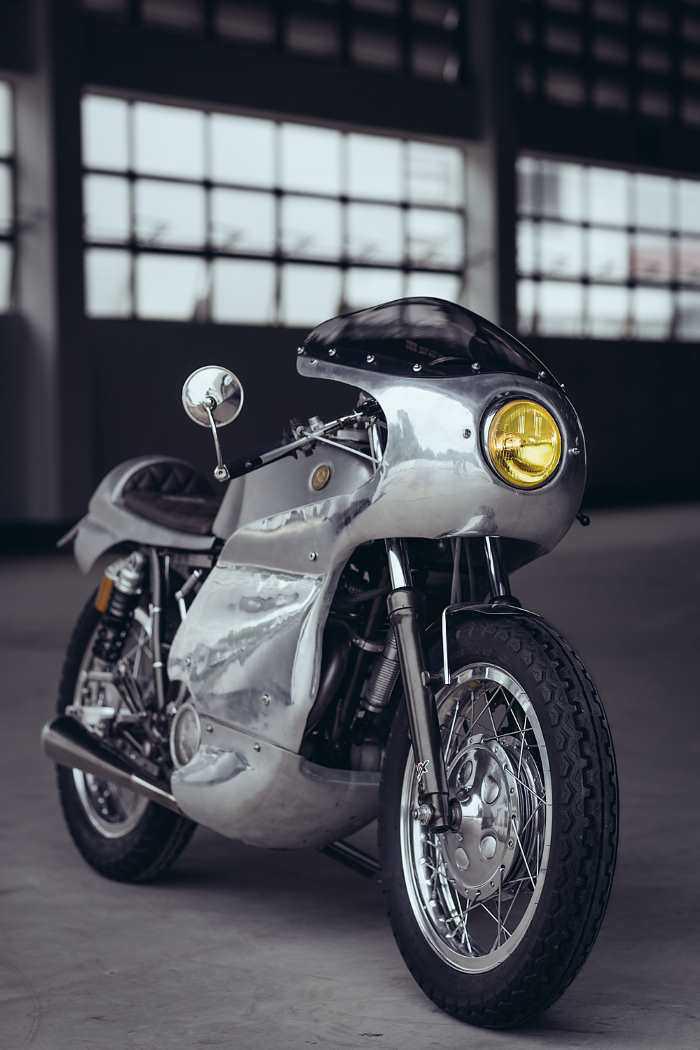 Now, the front fairing may have added some noticeable bulk to the entire bike but that doesn't mean the builders got lazy. In fact, a lot of effort was placed on keeping everything slim.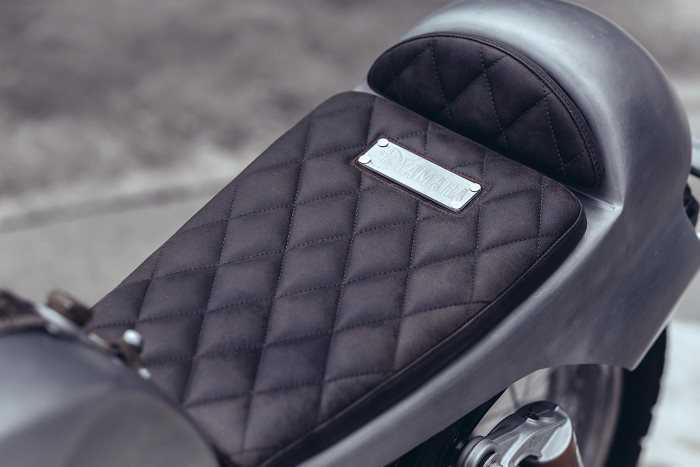 Everything was hand built from scratch so you're going to have a hard time looking for these exact items on any manufacturers' product catalog. Much emphasis was put into achieving a slim profile.
So, if you view this bike from the top, you'll see that it looks like a bullet with a tapered end.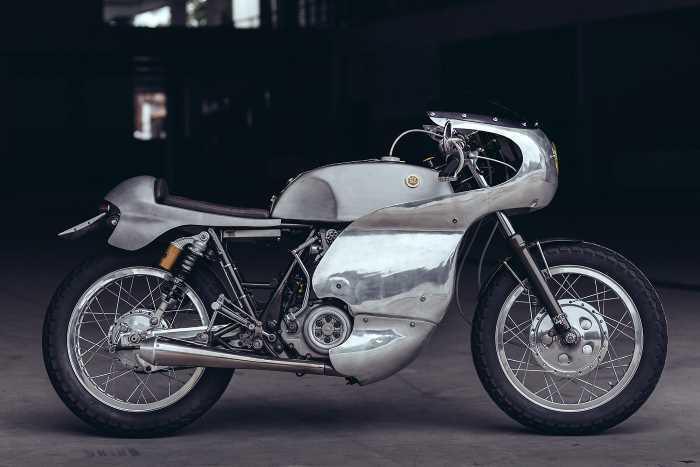 The Yamaha SR400 Cafe Racer's frame received very minimal modifications.
Most of the components found in the rear section came from Omega Racer's catalog.
This includes the polished aluminum swingarm that, for the time being, you can only order from Markus' company. Ohlins shocks were put in place to give it a comfortable ride.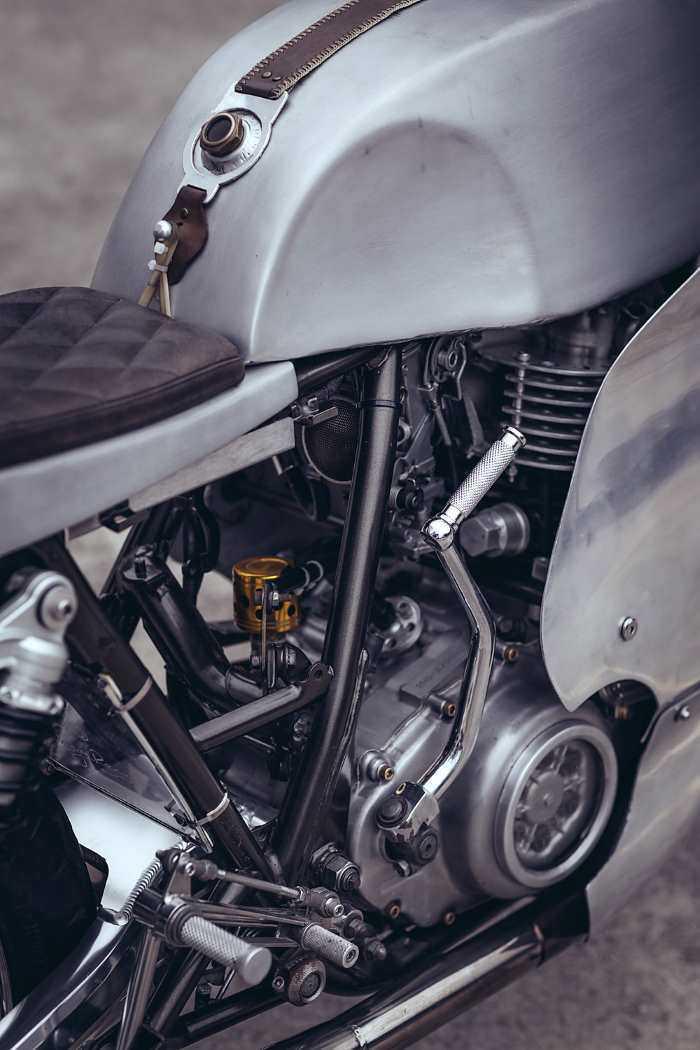 Because the Yamaha SR400 Cafe Racer had to make sure it had the power to back up its racer looks, Markus completely rebuilt the engine and then fitted a Keihin FCR39 Carb to give it that much needed "oomph" each time he throttled the bike.
Although this bike looks fancy at first glance, a more thorough examination will reveal the no-frills approach the owner took with this machine.
Upfront, there is a very simple dash with toggles and switches enough to inform him about the bike's condition as he is riding without being too distracting.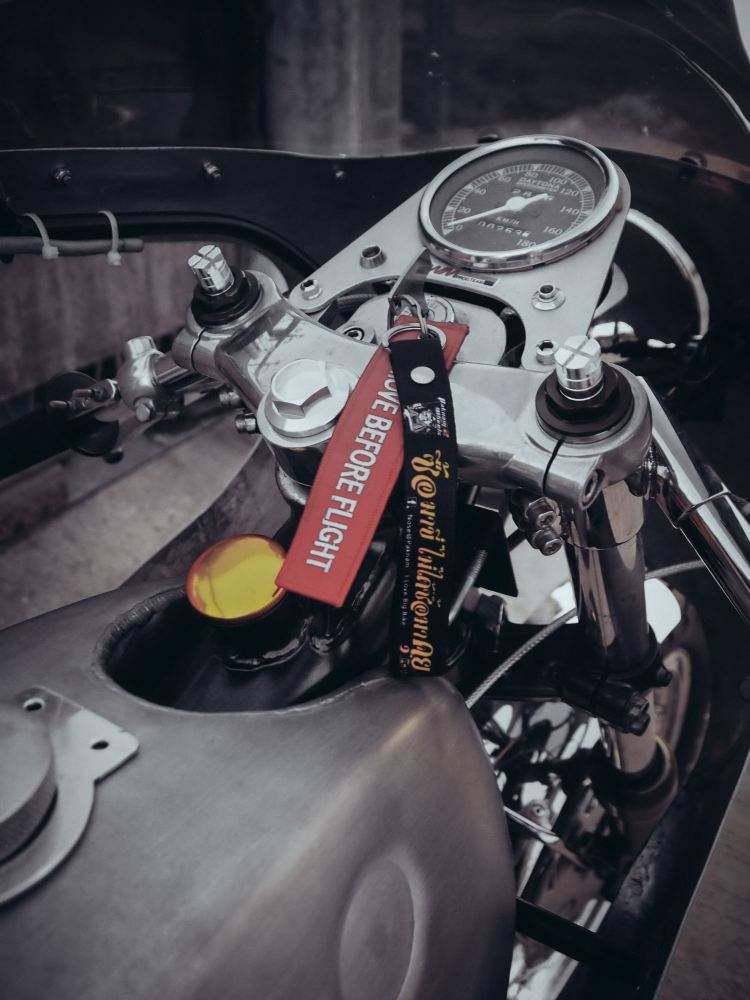 The only thing that looks slightly out of place with this racing machine is the side mirror that sticks straight up from the handlebar. But then again, if you're going to ride your bike in Thailand, you really need side mirrors!
So is this Yamaha SR400 project bike what it really is? Or is it something of the pages of a sci-fi novel that only Isaac Asimov could have originally thought of?
Whatever the case may be, Markus Pintzinger surely has a winner in his hands as having one of the most beautiful Yamaha SR400 Cafe Racers in existence today!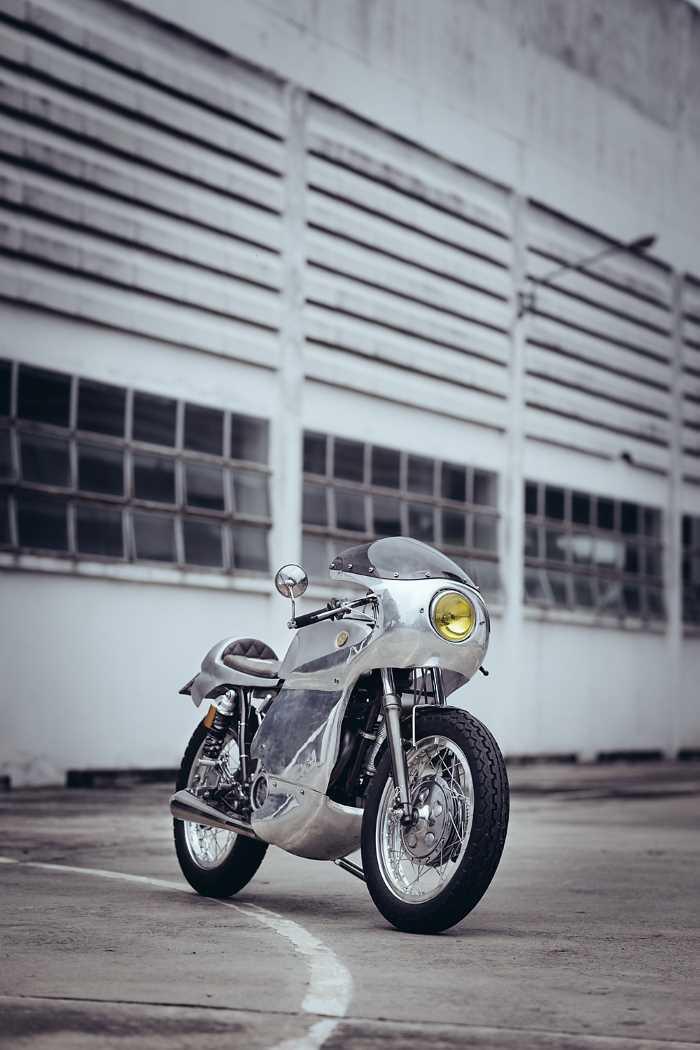 Base bike for this project: the Yamaha SR400 (1978-1999)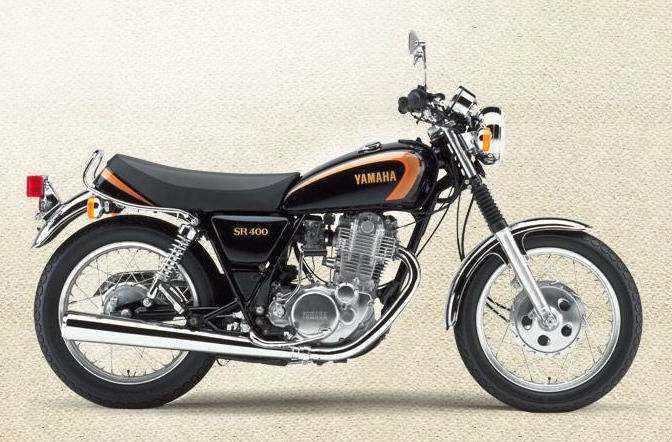 Manufacturer
Yamaha Motor Company
Production
1978−1999
Assembly
Iwata, Shizuoka, Japan
Class
Standard
Engine
4-stroke 499 cc (30.5 cu in) air-cooled, SOHC, single-cylinder, 2-valve
Bore / stroke
87 mm × 84 mm (3.4 in × 3.3 in)
Compression ratio
9.0:1
Top speed
146 km/h (91 mph)
Power
23.5 kW (31.5 hp) @ 6,500 rpm
Torque
36.3 N·m (26.8 lbf·ft) @ 5,500 rpm
Ignition type
CDI
Transmission
5-speed
Frame type
Half-duplex cradle
Suspension
Front: 35 mm telescoping fork, 150 mm (5.9 in) travel

Rear: 105 mm (4.1 in) travel, 5-way adjustable preload

Brakes
Hydraulic disc or mechanical drum, depending on model year
Tires
F: 3.50-19 or 3.50-18
R: 4.00-18
Rake, trail
27.5 deg, 117 mm (4.6 in)
Wheelbase
1,405 mm (55.3 in)
Dimensions
L: 2,105 mm (82.9 in)
W: 845 mm (33.3 in)
H: 1,155 mm (45.5 in)
Seat height
810 mm (32 in)
Weight
158 kg (348 lb) (dry)
Fuel capacity
12 or 14 litres (2.6 or 3.1 imperial gallons; 3.2 or 3.7 US gallons)
Oil capacity
2.4 litres (2.5 US quarts)
Fuel consumption
4.8 L/100 km (59 mpg-imp; 49 mpg-US)
Source: Wikipedia