Yamaha RD 350 cafe racer project – two strokes of genius
The Background.
2 years back we saw the first cafe racer from Motoexotica and it gave new directions to cafe racers in India, today we see this bike doing the same, yes it has a dashboard made out of 20 layer carbon fiber, suspension from a super-sport motorcycle, and 21st-century electrics.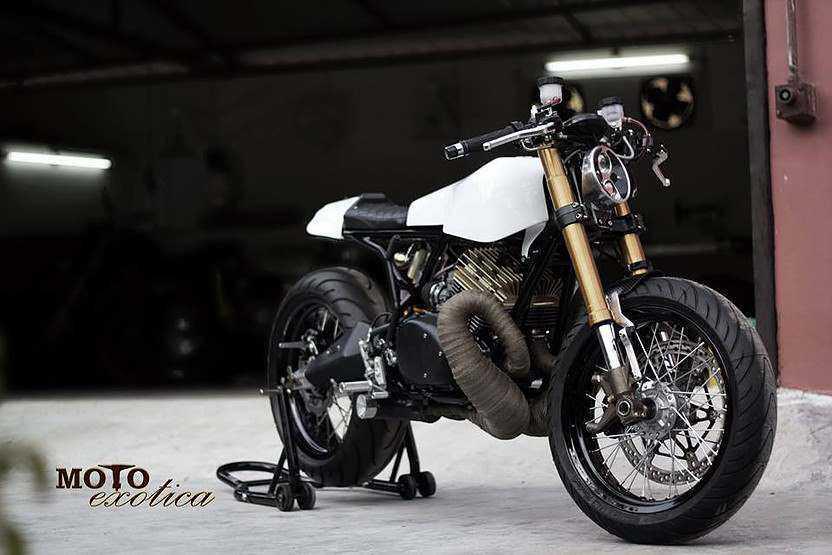 The RD is our first love and taste of a performance two-stroke, my first professional and another award-winning build are RDs.
They are very special to people who grew up riding or dreaming of them in India, and this is just one such love story.
IBEX – Yamaha RD 350 cafe racer
Whether it is the alloy gas tank & body panels, or the carbon fibre bodied calculated expansion chambers or the 40 odd billet custom parts carved in wood and then manufactured in aluminium that makes this Yamaha RD 350 cafe racer so special.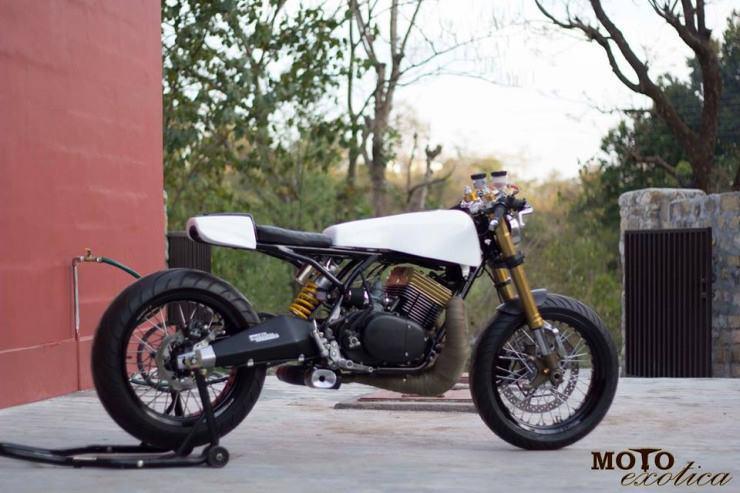 We could go on with the exclusive and one-off' for this build, but it is actually a combination of art, technology & design that makes it so special.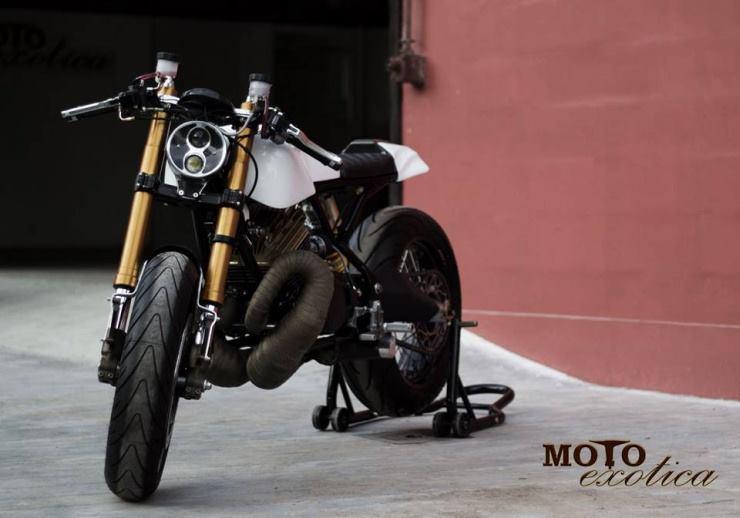 The freshly rebuilt mill now runs RDD digital ignition, ottoco heads for better compression and cooling, a hydraulic clutch, and of course, the custom made expansion chambers to make things a lil interesting.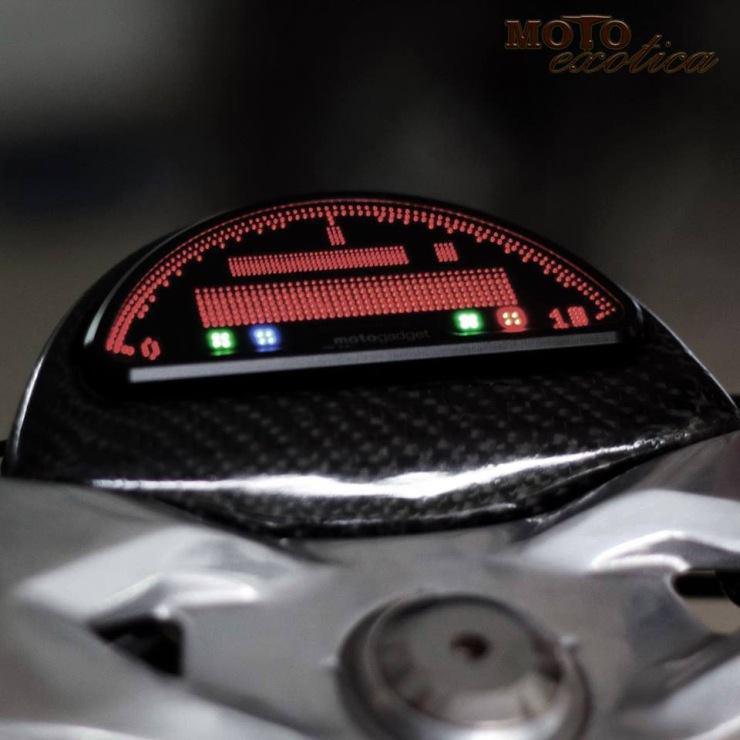 The anchor comes from a Ducati 330 mm floating unit and a tokico 4 pot unit, yes it runs a radial master and braded lines all round.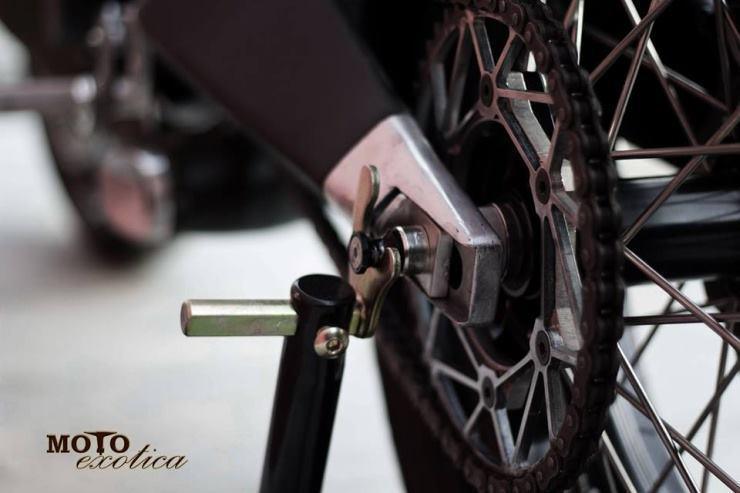 The Motogadet pro sits pretty in the carbon fibre container, speaking of which the front mudguard, the exhaust cans, and under-seat panel are also 3d twilled carbon, led lamps all round keep go well with the modern trends.
The Experience.
Turn the key on and be surprised with the elaborate digital console and telltale lamps, kick start the engine and it settles in an uneven rumble of a parallel twin, as you get moving.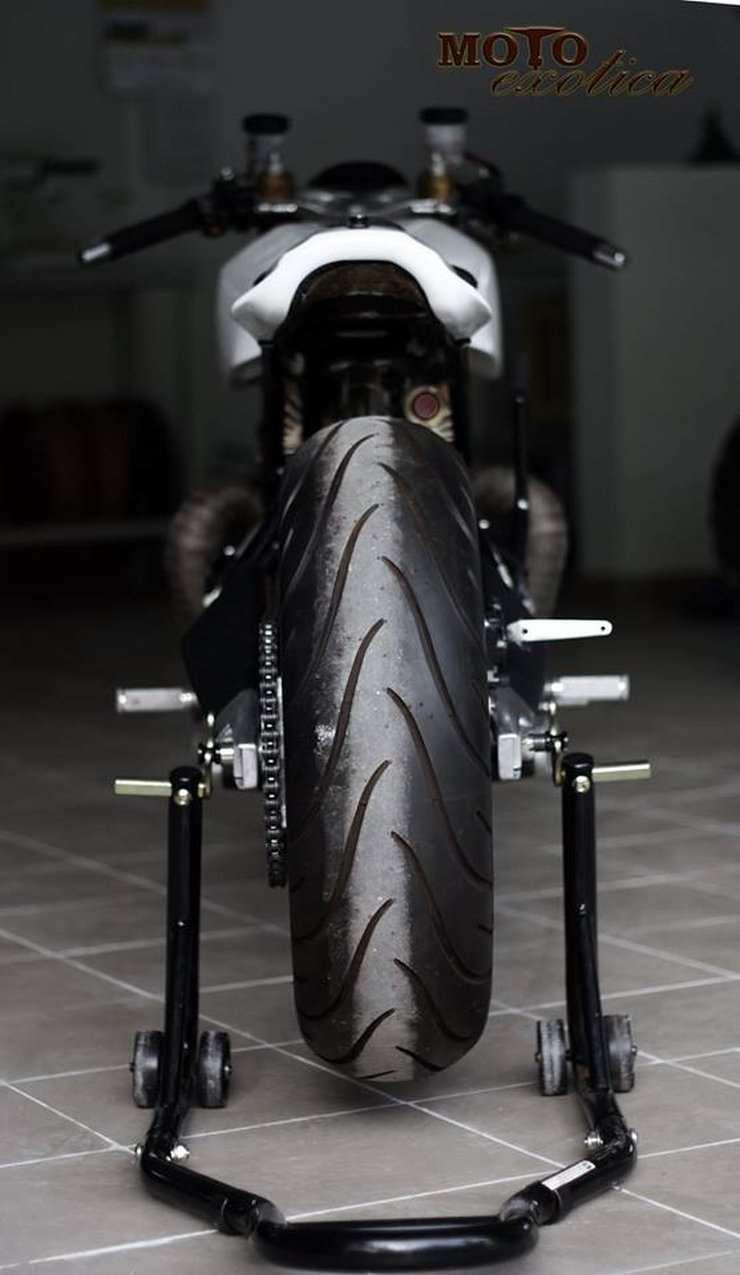 The intake wasp would drown the exhaust note but not for long.
The pipes wake up at the 5k mark and so do the butterflies in your stomach.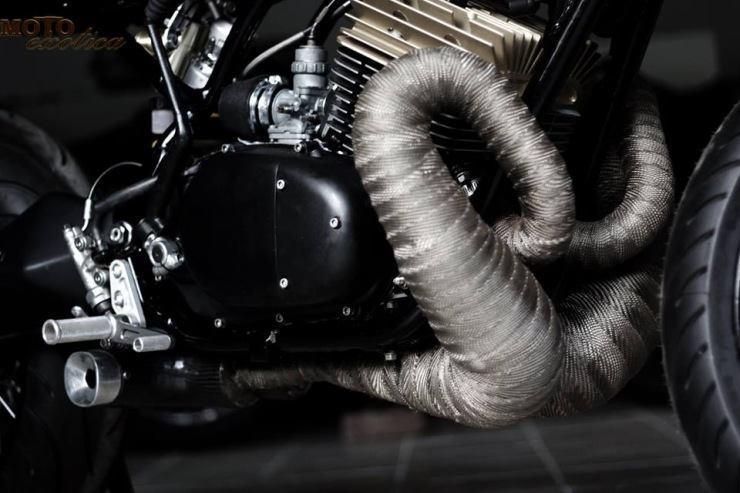 This repeats for the next 3 gears, just as you catch yourself entering a corner too hot, and grab the brakes, you are surprised by the missing drama and you attempt the next corner 10 kph faster…..
a typical custom from Motoexotica….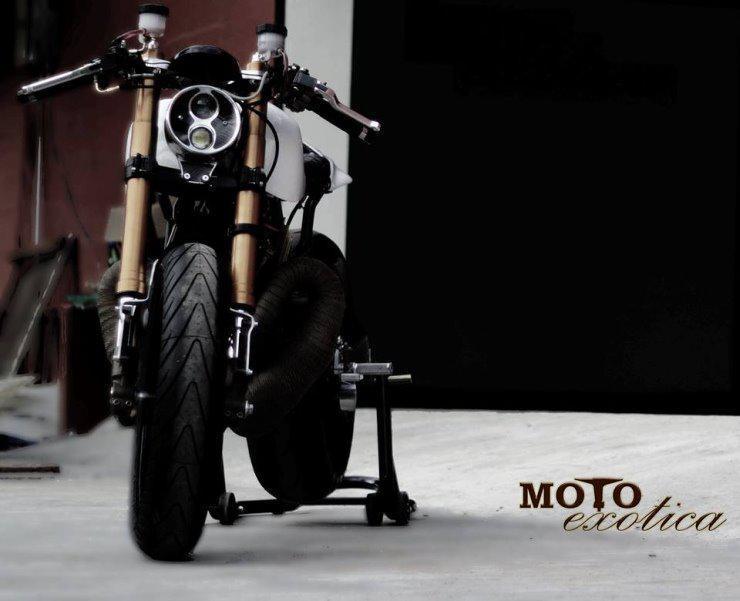 Base Bike for this project: the Yamaha RD 350 (1973-1975)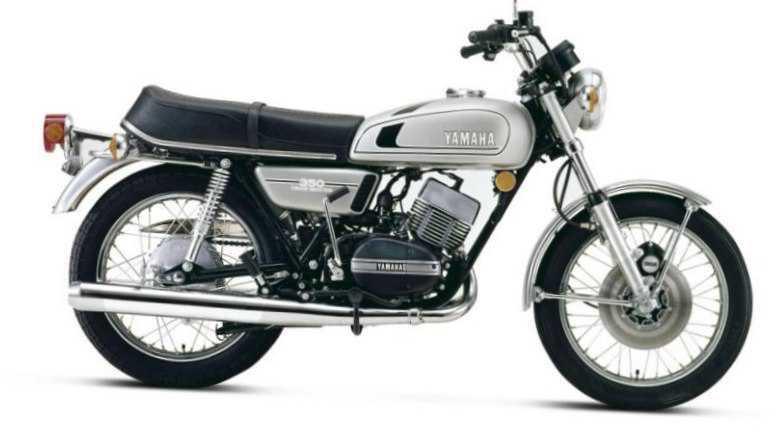 Manufacturer
Yamaha Corporation
Production
1973-1975
Predecessor
Yamaha R5
Successor
Yamaha RD400
Class
Sportbike
Engine
347 cc (21.2 cu in) air-cooled, two-stroke parallel twin
Top speed
105 mph (169 km/h)
Power
39 bhp (29 kW) @ 7,500 rpm
Transmission
6-speed manual
Frame type
Tubular twin cradle
Brakes
Front; disc: (drum, Indian RD350)
Drum rear
Tires
Front: 3.00x18-4PR, Rear: 3.50x18-4PR
Wheelbase
1.320 m (4 ft 4.0 in)
Dimensions
L: 2.04 m (6 ft 8 in)
W: 0.835 m (2 ft 8.9 in)
H: 1.11 m (3 ft 8 in)
Fuel capacity
15.5 l (3.4 imp gal; 4.1 US gal)
Source: Wikipedia