Cafe racer project VS Old motorcycle restoration
You bought an old bike and want to turn it into something new and capable. So you buy a cheap bike and you start looking for the necessary parts to restore it to a newer and better bike. The funny thing about these hobbies is that motorcycle restoration is roughly similar to building a cafe racer.
The difference?
Motorcycle restoration is aimed to create a new bike out of an old bike, while cafe racer projects are aimed to take an old bike and make it unique!
Exactly how far off is restoring an old motorcycle as compared to starting a cafe racer project?
You will be surprised that it isn't as far out as you would think it is. In a sense, most cafe racer projects (disregarding those who build a total custom cafe racer with originally designed parts, frame, engine, etc…) are motorcycle restoration.
Both projects would require you to take an old bike and make it new. But why am I more inclined in urging you to build a cafe racer?
Let's do a quick comparison of the key points of each bike.
Finished Product
Old Motorcycle Restoration- Limited
Results are exactly like the original model. A regular motorcycle restoration project is aimed to take an old bike and turn it exactly to how it was when it was in new or near-new condition.
That means using almost exactly the same parts to replace the old ones if the olds ones are beyond repair, and a simple polishing and checking for cracks on the frame. You will also be required to buy some of its parts and may require some mechanical skills on your part apart from disassembly and assembly.
I'm not saying a regular motorcycle isn't cool. It can be depending on which bike you want to restore.
If you aim to choose cheap bikes for restoration, then what you get is an old 70's or 80's bike. If you aim to restore a classic bike, then you get a classic bike. The better the base bike is, the better the result is.
And since you won't be aiming for new modern bikes as they could be more expensive, then you would probably end up using Japanese bike models or another generic factory-made bike. Your goal is the only restoration and you have nothing beyond it.
Cafe Racer- Free
The cafe racers are not dependent on the bike used. The difference lies in the goals you set.
If you simply want to just restore a motorcycle to a new and fully functioning one, then that is what you get. But when you do a cafe racer, you transform an old bike and make it unique. You buy parts, make transplants, and other of the things that you normally would do in a basic restoration.
But this time your goal is different. You want to make a cafe racer. The end result of a cafe racer project will produce a faster bike as compared to restoration. Because cafe racers are all about speed. This also gives you more freedom to redesign the parts and make them as you want!
You rebuild not a motorcycle but allow your own personality to change the outcome.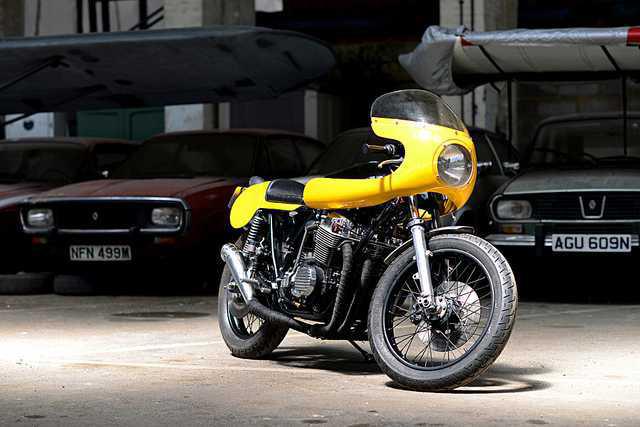 Project Cost
Old Motorcycle- Expensive
You would think that motorcycle restoration is less expensive, you would be wrong. The reason is that you need to find specific parts to build a bike. This would require a lot of searching! You would end up looking for specific parts running around various shops just to find them. It is more tiring to do so. Restoring a bike with each detailed parts as seen in the catalog will make you more tiresome. You will also need to repaint it to fit the color that it originally was.
Cafe Racer- Flexible
You might think that this is expensive but it really depends on how efficient you are and what your base bike is. Cafe racer for newer models means stripping it to its lightest form. For old models, it means finding new engines, new parts, and a change in the basic structure of the bike may be required. In terms of cost, old motorcycles restoration is usually more expensive than cafe racer project bikes. The temptation to upgrade your bike to an even more powerful monster is present. The diversity that you are allowed to have will allow you to settle with whatever part you find that fits. So they cost less. You don't need to look for the same parts, you can find other aftermarket parts that can provide the same function.
Time
Old Motorcycle- Time Consuming
The problem is finding the right parts. The parts of an old motorcycle may be difficult to find. It may take a while to find the right parts and it's even harder because you have to stick to plan. Depending on your area some parts may be hard to purchase. This is why it's more time consuming than the cafe racer.
Cafe Racer- Efficient
Since you can put in any parts to make the bike fast any parts that the local shop has can be used. This makes it efficient. In fact, if you have other old motorcycles or even new ones, you can use those parts and transplant them. The Time in searching and building may become easier.
Fun Factor
The last and most important thing is the experience and fun involved in building bikes. Although it is also fun to conduct a motorcycle restoration project as it can provide a sense of fun in the building and a sense of accomplishment after, the cafe racer can provide a constant sense of accomplishment as it allows you to compete with others to see which one is fastest. For restoration, it ends once you accomplish building the bike. For cafe racer, it just begins.
As you can see a cafe racer costs less, spend lesser time building, and gives you more freedom to build it.
So if ever you would need to restore a motorcycle, why not build a cafe racer instead?
Images by Charles SEGUI and REDMAXSPEEDSHOP