Buying a Motorbike for your cafe racer project
As many motorbike riders can affirm, there is nothing as thrilling as the joy of speeding through the curves on your two-wheeled fun machine; especially if we are talking about a cafe racer customized bike.
As dangerous as they are, motorbikes not only provide a sense of freedom but also add excitement in an intriguing way.
Motorbikes are becoming many people's favorites. Similarly, there are many models and motorbike architects under the sun willing to offer a bike of your choice to finally start your cafe racer project.
Cafe Racer Wanted. Dead or Alive
Buying a motorbike – from Fantasy to reality
Let's face it. If you have been dreaming of buying a motorbike for decades, turning those fantasies into reality can be a daunting experience.
There are many classic motorbikes with almost every feature you would like to find in a motorbike flooding the market today.
Sifting through all the options to get the most suitable one can be a real tussle. However, with a few tips and the right information right at your fingertips, searching for the motorbike that is right for your project will be nothing but mere fun.
The basics
No doubt motorcycles are one of the acmes manliness. They are up there with Islay single malt. Grass-fed sirloin and Creeds green Irish tweed aftershave.
You might probably be wondering why this is so and here is the reason….
Unlike automobiles, Motorbikes offer a visceral experience: one that requires skill, mental engagement not to mention risk management.
You can't sip coffee, daydream the minutes away, or fiddle with your phone while riding a motorbike. Your senses are on red alert, and your life depends on the two tiny patches of rubber connecting you to the road. These are some of the reasons why many want to own a bike. Probably you are one of them. This article will guide you through the process of purchasing one.
So let's assume that you are an experienced rider or probably you have passed your test without too much hassle. You have the co-ordination, balance, and presence of mind required to ride a bike. You have the cash perhaps burning a hole in the pocket of your leathers. You're doing rounds of dealership daily in pursuit of a road bike. No more worries.
Here is what you need to know.
Online presence
With the advent of the internet, a lot of information about motorbikes can be retrieved easily. The difference between that Honda you saw and a Suzuki you have always admired is a click away.
Do your research.
Online reviews can help you know important information about a given model in a snap. You will constantly see satisfied (or unsatisfied) customers review products that they have purchased and used.
This includes motorcycles. Reading these reviews can be very useful. However, while this is true, different people have different preferences and therefore different reactions to a product.
The fact that a rider claims that the seat of a Kawasaki he bought was too high doesn't necessarily mean Kawasaki bikes have raised seats. You need to visit trusted websites that deal with motorcycles and motorcycle accessories to gather as much information as possible.
Once you have the information, you will be ready to make the next move.
Seek advice from friends
Most of the time, your buddies will always seem to know a defect in a product you want to purchase. It is your buddies who will always seem to know where to get the most classic bike at the most reasonable price.
Well, at times they might be jealous of you but why not lend them an ear anyway?
While they may criticize your favorite bike, they might provide you with useful information that will help you in making the purchase.
Your friends are an important asset in helping you complete a deal. When the deal is complete, remember to send them a bottle or two of their favorite adult beverage, smile, and say thank you.
Contact the experts
Your local motorbike dealer or an experienced mechanic can be of great help when buying your motorbike.
With loads of years in the niche, they have most likely perfected the skill of sorting the best bike from a huge collection. Make them part of the deal and be sure to seek guidance from them. More often than not, dealers and seasoned mechanics always know where to get something at your convenience. Despite charging high costs for their services, it is always worth it. At times when things go wrong, having a renowned dealer by your side can help you triumph a lawsuit.
Auctions
Another way to acquire your desired bike is through an auction. Of course, you need to go with a swollen wallet if you reign in your Finances.
Auctions can be disappointing at times especially if the price of the bike you eyed goes beyond your projected value. Worse still is when your favorite bike is right beside you but you can't take it home simply because of a $50 margin.
The good news, however, about auctions is that they can be accessed online.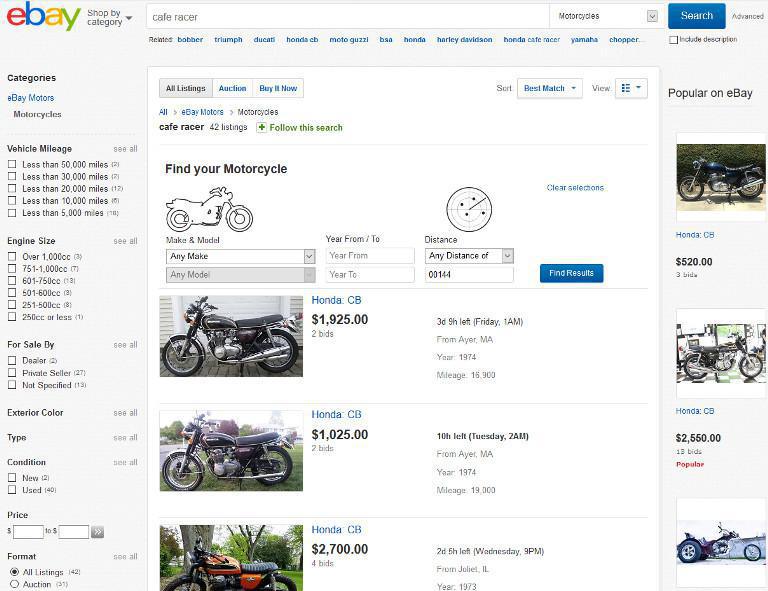 You can participate in an auction that is miles away and complete a clean deal. In spite of their limitations, auctions are a good way to acquire bikes without any difficulty.
However, you should always make sure you purchase a bike that is worth your money.
Social media
Social media has played a big role in matters business by bringing together the buyer and the seller. You can find a motorbike enthusiast willing to trade his bike cheaply right on your timeline.
Facebook, twitter, and other social networks that technology has endowed us have changed the way we do business. Be sure to find people whom you share common interests and get the deal done.
​
All said and done, step out and hunt for the bike that thrills you.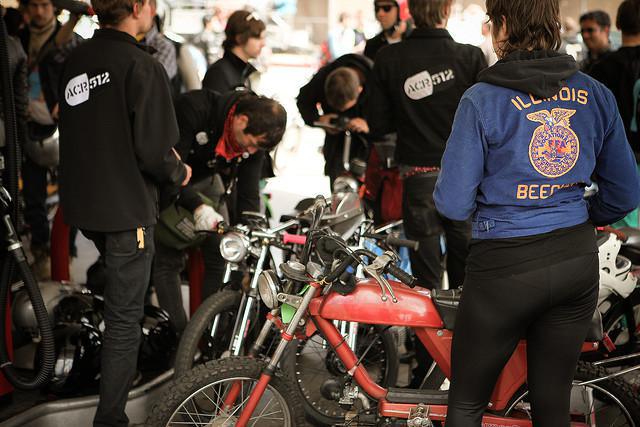 Now should be easier buying a motorbike. It is not too early to begin the search and if you have tried in the past unsuccessfully, it is not too late to begin again.
With the above-mentioned tips and ideas you will ultimately land on a bike that will suit your style and your cafe racer project. Your efforts will surely pay.
Images by Ronald Saunders and Jared eberhardt