LOOKING FOR MODERN CAFE RACER MOTORCYCLES? here are the TOP 10
Without a doubt, Cafe racers are more than just aesthetics. They are an odd phenomenon! Uniquely crafted clean lines are beautiful and desirable. They represent a paradigm shift engendering freedom to explore inventions and possibilities in the engineering industry only limited to the power of our imaginations.
Cafe racers inspire endless shed-built special, media, and even dedicated websites. Perhaps it's their 'custom made' nature that triggers an undeniable desire to own one. Or perhaps it is the obvious recipe of customizing them by adding in further mods to unlock their performance potential.
Well, whatever the reason, whatever the inspiration, lets agree that it is a fact that the days of mods and rockers may be over but the café racer market is thriving. Well, it's alive, anyway.
Despite the unmistakable love for the café racer, there are surprisingly thin options on the ground when it comes to the option of strolling into a showroom and buying one.
Every tiny displacement bike out there aspires to becoming a beautiful modern cafe racer motorcycle. That's its aspirations. On the other hand, every bike enthusiast dreams of doing the ton. It is a sage fact of life. There are a myriad ways to achieving this goal.
However, limiting ourselves to spanking new, factory-fresh, ride-away café racers, here's our run-down of the TOP 10, the very best cafe racer bikes on the market right now.
10)Royal Enfield Continental GT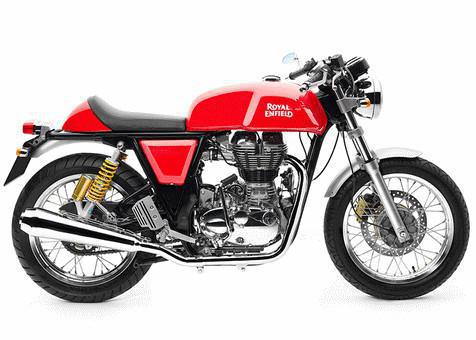 The Royal Enfield Continental GT café racer was launched into the markets in the middle of 2013 globally having been first unveiled at the 2012 Delhi Auto Expo.
This retro-looking has been assembled from the ground-up. As opposed to the traditional single down tube chassis in the Royal Enfield, the Royal Enfield Continental GT café racer has a double down tube chassis.
The Classic 500 provides the Continental GT with the UCE engine which by virtue of being re-bored has an increased capacity of 535cc. With Brembo disc brake in the front and another bybre disc at the rear, this 535cc motorcycle has more than enough stopping power.
Additionally, the Royal Enfield Continental GT machine gets a remapped ECU and Paioli suspension.
It comes in two color options GT Red and GT Yellow.
On the downside, you will have to dig deeper into your pockets to acquire one. Nevertheless, it is a Machine worth trying.
What more can a modern café race offer anyway?
9)Guzzi V7 Racer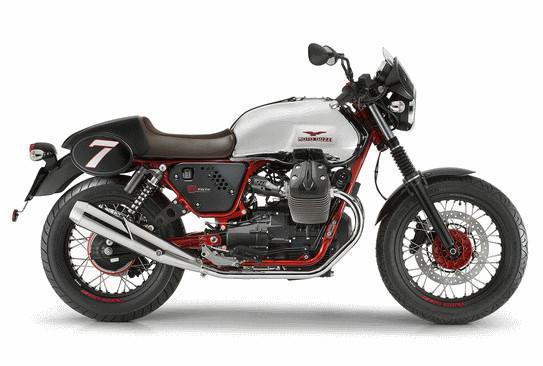 Tradition can be so thrilling sometimes. The Moto Guzzi V7 captures the designs and models of the café racer motorcycles of the 1950s and 1960s.
This machine combines modern features of an Italian-engineered motorcycle while still remaining loyal to the ancient designs.
This V7 racer blends classic style and craftsmanship to suit every racer. It has the following features: A new and more powerful, 750cc, six split-spoke aluminum wheels, 90-degree V-Twin motor, and new lightweight.
The re-engineered 750cc engine still uses the engineering technology and design that made the Moto Guzzi V50 a success among riders in 1977.
It is the same genial layout introduced by the Italian engineer Lino Tonti in the 70s that has continuously undergone positive transformation while staying true to the eminent tradition of the Moto Guzzi, that touring on a motorcycle at its most pure should be nothing but enjoyable.
8)Norton Commando 961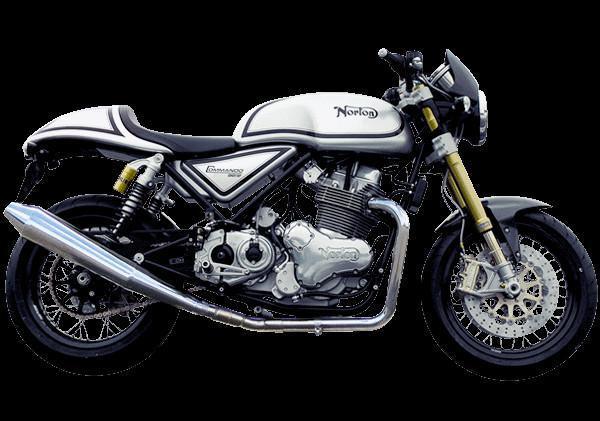 Commando 961 SE is a 'feel-good' bike par excellence.
This revived Norton machine gives riding and owning pleasure by the skip-load. Without a doubt, it is more ornament than transport.
You can bet it is a machine that you can park up in the garage and spend hours staring at it with admiration. Despite trading at £16K, the cost is arguably irreverent seeing that this version has finally sold out.
This bike augurs well for the future cheaper modern Cafe Racer and Sport. Moreover, there is no other bike in existence that fulfills both roles so well.
Despite not being so trendy with equipment, (it is a straightforward, old-style roadster) The Norton Commando 961 SE has state of art brakes, wheels, suspension, and switchgear made of top-notch instruments as best as there is.
7)Ducati Scrambler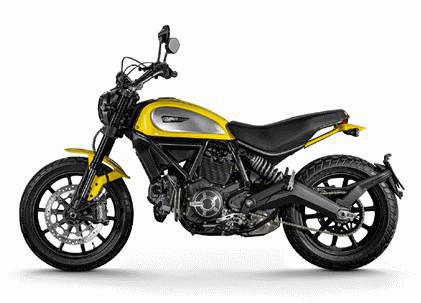 Bikes need to be fun. Well, they don't have to overpowered enablers of natural selection or obscenely styled. They need not be over styled and overpriced.
Oh! who says every other bike needs to be midlife crisis machines or vapidly retro fashion trinkets?
At some point, the entire café racing industry forgot that bikes just need to be fun. But this was before the new Ducati Scrambler. Yes!
The new Ducati Scrambler nailed it!
Do you know how some bikes feel right when you swing a leg over, sit down, and flick up the kickstand? This is what the new Ducati Scrambler was designed for.
Its design is unmatched. With the mildly squishy seat just 31 inches off the ground, anyone on the Scrambler with an average inseam is flat-footed when stopped.
You need not worry about posture anymore. The handlebars are tall and wide, providing that upright, confident riding position that's been all but lost on most bikes.
6)Kawasaki W800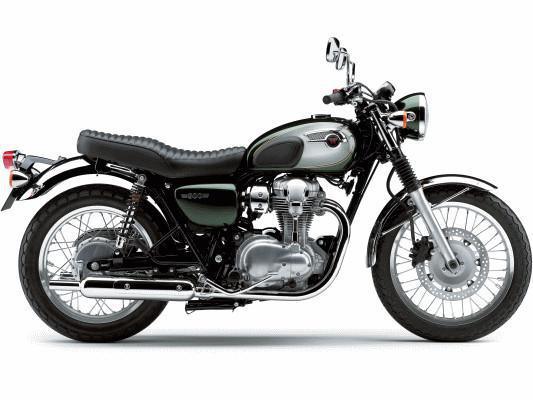 Kawasaki W800
This is yet another bike that blends top-notch technology with heritage in a unique way.
The Kawasaki W800 has a unique way of making sound, simple sense in this intricate motorcycle world.
Despite having ancient designs and styles, the materials used, engineering, and finishing styles are totally up to today's high demands.
This is a bike that has a keen eye for details. From top to tail, it oozes character. This attention to detail extends to every part used in the design.
Talking of parts, the air-cooled engine has been carefully sculptured with all the metal parts either being chrome, luster polished, or clear coated. With a bore and stroke of 77.0 mm x 83.0 mm, it is no wonder that the air-cooled 4-stroke Vertical Twin displaces 773 cm³.
The W800 has a fuel injection that offers precise fuel delivery clean emissions and easy starting. With its rich engine character and strong low-mid range torque, the max torque arrives at 2,000 rpm.
5)Honda CB1100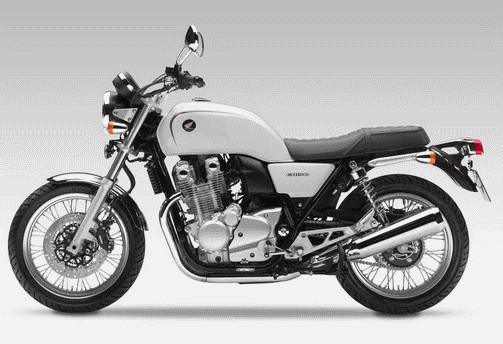 The Honda CB100 is a great bike that riders love to ride.
Despite drawing its inspiration from Honda's long life of reliable, capable and fun bikes, this modern cafe bike embraces the past while still looking forward. It comes with its 1140cc; fuel-injected inline four which is powerful and smooth.
With a completely agile and responsive Chassis and suspension, this modern caferacer is fun and confortable to ride around town on a weekend.
4) BMW R NineT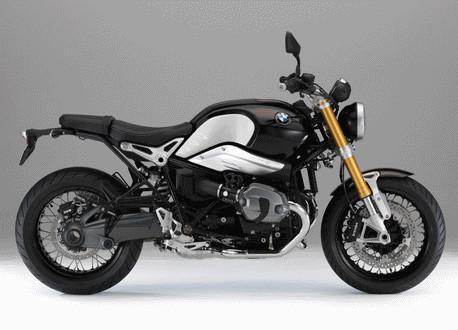 Every biker out there can affirm the fact that biking has always been a fun and passionate pastime.
90 years on, BMW Motorrad has upheld this tradition by ensuring that it remains the same both now and in the future. BMW R nineT is a modern cafe racer that ensures that you get it pure and absolutely original.
It features purist designs while still ensuring that you can customize it to suit your individual taste.
The BMW family ensures this by combining the feeling with a casually cool look which, in spite of all the details, is unmistakably a member of the BMW family. This bike lets you modify, ride, and have fun.
The nineT combines unmistakably unique details with a casual look which lays the foundation for an independent, authentic lifestyle.
Design your motorcycle, design your life.
One name, one purist lifestyle: BMW R nineT.
3) Ducati Sport 1000
When you think of a modern cafe racer that hustles; think of The Ducati Sport 1000.
Light weight, sharp steering and more than adequate brakes and suspension make a bike that hustles and The Ducati Sport 1000 has never disappointed. The higher ST3 bars are a common mod.
While taking the best styling components of a classic and putting them into a modern chassis that works, The Ducati Sport 1000 represents exactly what a modern retro bike should be.
It might not be the most comfortable bike around, as a matter of fact, it is expensive and uncomfortable. Nevertheless, it ensures that whoever rides it feels and looks a million dollars.
2) Triumph Thruxton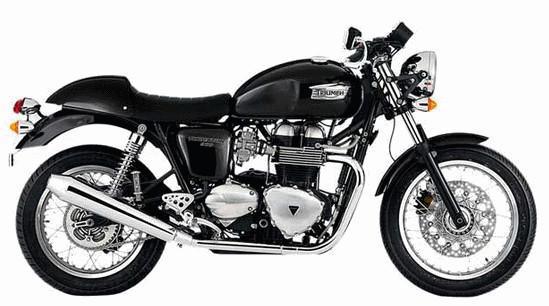 Though not the fastest, lightest, or the most technical bike out there, the Triumph Thruxton is one of the coolest bikes around.
This bike is credited for helping usher in a resurgence of the modern cafe racer in America.
Perhaps it's the resurgence of the modern cafe racer that helped propel Thruxton sales.
It's the age-old "chicken or the egg" dilemma but either way, it's the coolest bike in the showrooms today.
1) Build your own!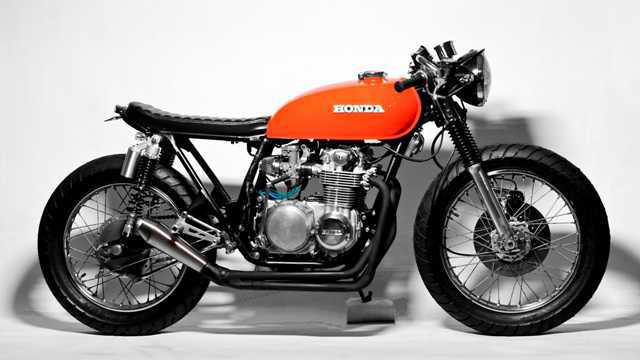 If you ca dream it, you can build it!
This is the ultimate cafe racer bike that tops our list. YES, your machine, you got it right!
It involves building your own cafe racer custom bike from scratch.
There's not much joy other than riding a bike that you have sculptured to your preferred shape.
​It's a bike that identifies with you we are talking about here. Or perhaps it is one that you identify with.
A custom made bike has a personality that is best known to the owner. And this is what differentiates custom made café racers from those bought from showrooms somewhere in the city. Uniqueness demands one to get dirty, sometimes even oily in order to get your bike that suits your individual needs uniquely.
This is the perfect option especially if you are operating on a tight budget.
And it should not bother you how to build your modern cafe racer. There are seasoned professionals to your aid.
All you need is to have a deep desire to own a bike customized just for you. Then the rest will follow suit.