BMW K100 Cafe Racer motorbike…your Classic Rocker
There's this movement to get classics rebuilt as quick lightweight bikes with a rocking attitude. It's all good, and getting a vintage BMW K100 cafe racer going is no different.
This story began during the 1980s. Bikers were then flocking to high-performance sports bike with advanced 4-cylinder engines from the likes of Honda and Yamaha.
The Bavarians didn't want to reinvent the whole bit to compete.
So they improvised a low frame that integrated a flat-four 987cc block outputting 90bhp stock – which was originally an automotive design! Few changes were needed to keep the block oil flowing.
Laid flat sideways, the low center of gravity let BMW's engineers align their trademark shaft drive with the crank.
When the K100 first came out, bikers were hesitant to mount its low-slung frame. Its type had not been seen since the 1930s, and its motor was… novel. But BMW Motorrad's brilliant line beckoned, and interest grew.
By the time the Berlin Wall fell, the new K-series was selling in great numbers. Its wide availability is the reason why one can be had for not quite a fortune today.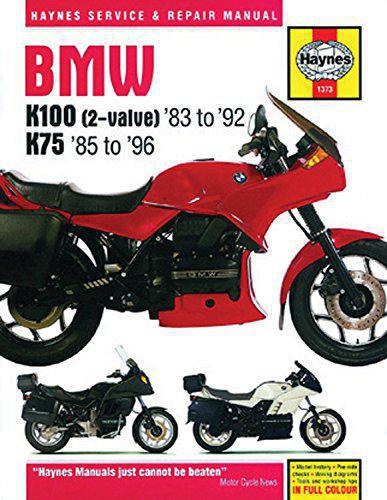 BMW K100 service and repair manual from Amazon
Now onto today's calling, where you'll read how a BMW sport bike might transform into your K100 cafe racer.
· The modern Bosch EFI system remains serviceable with calibration.
· You can swap the old instruments with digital speedos, feeding off modern engine control boxes from Motogadget.
· Other than fuel and oil-water pump replacements, valve adjustments are usually all you need to keep these hot-running engines working.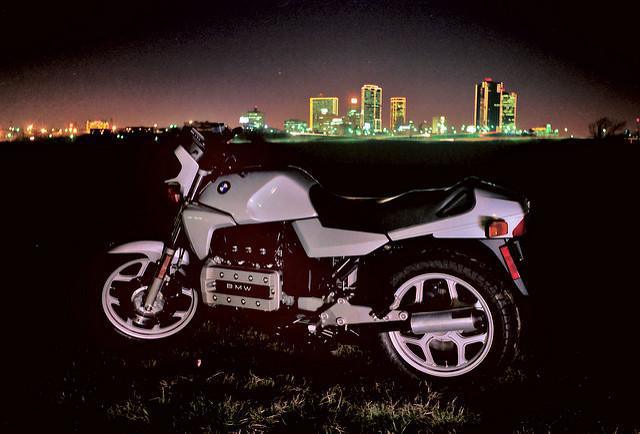 Do you want the "thoroughbred" race seating and grip stance? There's a raft of parts you can afford from the best names in the business, having saved much from choosing an inexpensive K100.
· With the fairings, off, the standard Fichtel and Sachs forks can be topped with low-mounted bars and new clip-on and shifters.
· You can also have custom bars bolted on along with inclined saddles and seat pans, to get thatK100 cafe racer look.
· The original Brembo disc brakes are already good enough. But you should swap out the stock rear sets with more adaptable ones from BSK SpeedWorks.
· Speedworks can also combine the 4-into-1 collector with Supertrapp silencers if you don't fancy the original square exhausts.
· You'll likely get improved handling with new 2.50, 110/18 sports tires up front and 2.75, 130×17 at the rear, and any well-used model will need new shocks.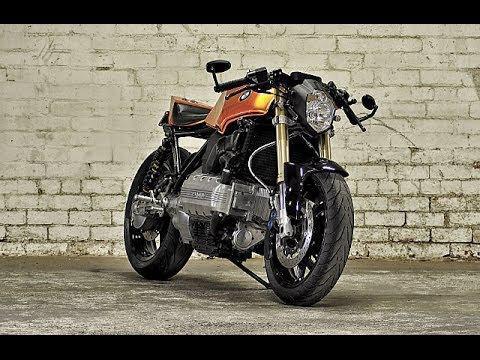 ​
Every motorcycle project has goals reflecting the design and the owner's purposes.
Redoing this simple frame in cafe racer style is popular with bikers raring to look stripped and go fast on a budget.
Although old bikes can require more costly maintenance and hard-to-find parts, this BMW bike offers one of the more reliable classic rides.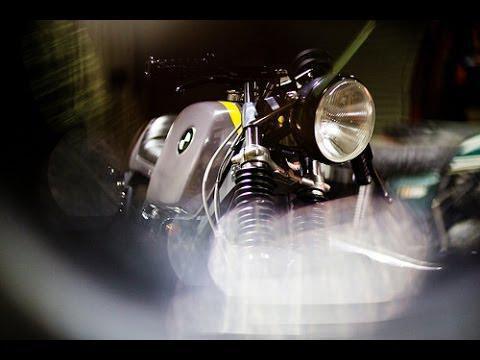 Tons of these stripped-down and modded-up bikes are pounding the roads on various missions.
Their riders know that the cool prestige and hot ride of a gorgeous K100 cafe racer are unlike anything else!
Images by Thomas Hundt and Craig Howell